In 1976, New Horizons Private Limited was formed by individuals with their previous experience in leather industry. These individuals decided to manufacture leather work-gloves in India because of two primary reasons:
:: India has a large pool of skilled labor at internationally competitive wage levels.
:: India, being first among the livestock producing nations of the world, has an enormous supply of low cost raw hides and skins suitable for work – gloves.
Directly from factory to you
results in the lowest possible price.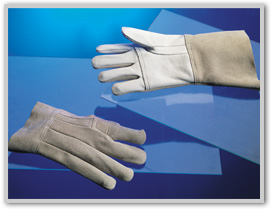 Customised quality products at a low price
you tell us your designs and specifications and we will tailor make the gloves for you. No extra cost for customized one-color logos or marks on the gloves. Customized packaging and presentation provided for any quantity.

A satellite office in the USA
for convenient communications and to help you with the latest market information and import/custom formalities. Today, New Horizons Private Limited is one of the biggest manufacturer and exporter of cow leather work-gloves and leather work-garments from India.